Top 5 Hybrid/Electric Cars in India
 India is yet to take to electric/ hybrid cars, probably because they are considered to be not only expensive to buy, but also maintain. And when it comes to alternate fuels, we have relied more on LPG and CNG instead of electric energy. However, that hasn't dampened the car manufacturers' hopes in India, as they have anyway gone ahead and introduced vehicles which are clean and green. Here is a list of the
top 5 hybrid
/
electric cars available in India
:
1. Mahindra e2o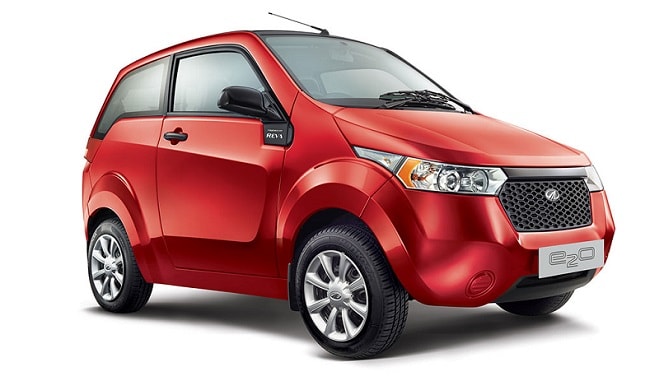 What was shown as a concept at the 2012 Delhi Auto Expo finally made its way to the Indian market in 2013. Manufactured at its facility in Bengaluru, Mahindra launched it's electric vehicle – e2o  which was in fact the first all-electric in India – in 2013.
The e2o comes powered by a 48V maintenance-free Lithium-ion battery, which churns out about 25bhp and 53Nm of torque. It's not too quick, and offers a top-speed of only 81Km/h. Though a full charge takes 5 hours, Mahindra also has QuickCharge that helps charge the car in just about an hour. Once fully charged, it can cover a distance of 120Km, which is sufficient for city travel. Mind you, Mahindra has been working on a 4-door version of the car and the company will launch it soon in India.
Inside, the e2o gets a large touch-screen interface, and a monochrome digital speed information pod.
Price Range: ₹ 4.79 lakh – ₹ 5.34 lakh
2. Volvo XC90 T8 Plug-In Hybrid
Volvo recently launched the Plug-In Hybrid version of the XC90 in India and well, it was the first SUV of its kind to hit the Indian shores. We got a chance to drive it exclusively and we couldn't help but see how luxurious it really is.
Built on the company's modular Scalable Product Architecture (SPA), the Volvo XC90 Excellence's name, and the price for that matter, bespeaks of the affluence on offer and then some. Among the myriad of extravagant features on offer, one of the most distinguished are the individual electronically-adjustable reclinable rear seats with massage & ventilation functions, and added legroom with footrests. These provisions are complemented by ambient lighting, illuminated storage, a retractable control touchscreen, folding tables, a refrigerator with bottle and glass holders, a heated/chilled cup holder, and handmade crystal glasses from leading Swedish company, Orrefors.
The AWD Volvo XC90 Excellence derives power from the company's T8 Twin-Engine Plug-in Hybrid Electric powertrain (2.0-litre supercharged and turbocharged petrol engine + 9.2kWh Lithium-ion battery). Mated to an 8-speed automatic transmission, the SUV offers a combined power output of nearly 402bhp and develops a maximum torque of 640Nm.
Price: ₹ 1.25 crore3. Toyota Camry Hybrid
The Camry hybrid is not a plug-in hybrid but has been the bread winner for Toyota in this segment. Actually, thanks to the Camry hybrid, we're witnessing a revival of sorts in this segment. the hybrid version of the car has accounted for 70 per cent of the sales of the Camry and this means there are a host of people interested in saving the environment as well as fuel bills.
Just like the standard Camry, this one gets Toyota's DOHC VVT-i 2.5-litre petrol unit, but it's tweaked to accommodate the electric motor. The output tally of the hybrid system stands at 202bhp; 158bhp from the petrol motor, and 44bhp from the electric motor. The power split device helps deliver seamless power to the wheels, and also to the generator that keeps on charging the battery. The battery is nickel metal hydride, unlike the usual lithium-ion, and is placed under a plastic cover inside the boot.
There are three driving modes to choose from – EV, Eco and Normal. The e-CVT (electronically continuously variable transmission) takes a bit of time to push itself off the starting line, but eventually offers utter smoothness and refinement.
Toyota has generously provided features that make it an ideal chauffeur-driven car. The 3-zone control for the driver, front passenger, and rear passengers, cooled front seats, cruise control, powered rear seats that recline, and a rear armrest that houses the controls for the recline functions, all find their way inside the car.
Toyota claims that the Camry Hybrid delivers 19.6Km/l (ARAI figure), which is truly impressive for a car of this size.
Price: ₹ 31.19 lakh
4. BMW i8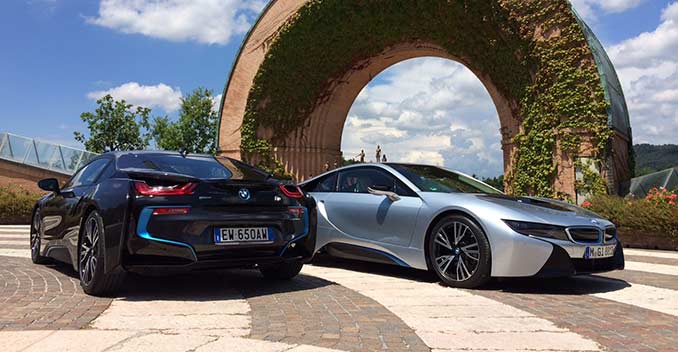 When BMW first brought the i8 to India at the 2014 Delhi Auto Expo, we thought it was just to bring the crowd to their stand. But were happily surprised when Mr Sahr announced that the car will be launched in India. This baby defies all reservations about hybrid cars; that they are slow and boring.
Also Read: BMW i8 Review
Under the hood, the i8 comes with a 1.5-litre, inline 3 petrol unit and a 7.1kWh lithium-ion battery. Power from the gasoline engine stands at 228bhp, while the electric motor punches out 129bhp, thus taking the combined tally to a massive 357bhp. In all-electric mode, the BMW i8 boasts of a top-speed of 120Km/h. In Sport mode, the i8 delivers a mid-range acceleration from 80 – 120Km/h in 2.6 seconds. The electronically controlled top-speed stands at 250Km/h.
BMW started the car's deliveries in August, 2014, and had already managed to sell 1,741 units by December, 2014. Furthermore, the first batch of BMW i8 to arrive in India has already been sold.
Price: ₹ 2.29 crore
Mahindra eVerito
The Mahindra e-Verito is powered by an electric motor coupled with a 72V battery pack. The Indian auto giant claims the electric sedan offers a driving range of 110 km on a full charge. The EV uses a lithium-ion battery that takes 1 hour and 45 minutes to be fully charged through fast charging technology and will take over 8 hours on regular mode. The e-Verito's top-speed is rated at 86 km/h. Mahindra says that the running cost on the EV comes down to ₹ 1.15 per km.
In terms of design, the electric Mahindra e-Verito sedan retains its diesel sibling's silhouette. However, it does get a handful of stickers and a revised interior to help differentiate it from the standard Verito model. Mahindra is offering the e-Verito in three trim options, namely, D2, D4, and D6.
Price Range: ₹ 9.50 lakh – ₹ 10 lakh