Top 5 Cheapest Bikes in India for 2016
In India, we just not consider the mileage of the bike while buying the new bike but also the affordability is major consideration for our daily commute. Considering the ever increasing pricing of the fuel, no wonder youngsters compensate it with budget bikes.
Budget bikes are not just the usual old time bikes whose every part looks like they have assembled it half heatedly. Now atleast Manufactures have rightly understood that the end buyer is demanding and cant give in his demands of good product with decent features because he / she is buying Cheaper variant or budget bikes.
Here is the list of top five Indian low cost, fuel efficient bikes, which are best in class too with style and performance. They are under INR 44,000 and offer greater mileage too.
Bajaj CT100 – Country's Most Affordable Bike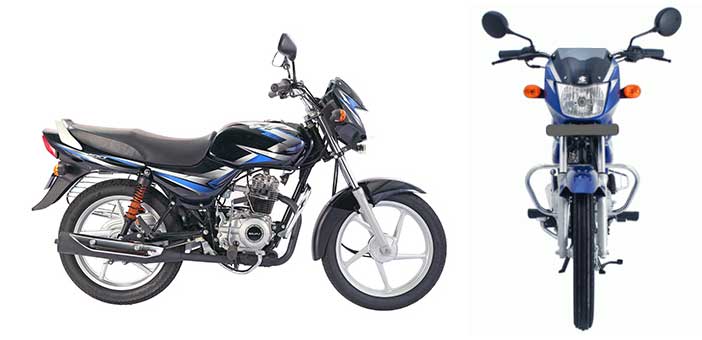 Overall bikes is in the market for long time. Good thing about this bike is it never went out of fashion, Bajajs always kept it fresh and impreovment on the looks front. Bajaj Auto has re-launched its most affordable motorbike, Bajaj CT 100 with some additional features. It is a 100cc entry-level bike that targets young buyers aspiring great milege and good milage.
The CT100 was rebranded replacement for Bajaj's successful model Boxer; however, the same too was discontinued in 2006. CT100 is Available in two variants – spoke and alloy, it is a combination of excellent design, high mileage, powerful engine and new-age technology. Powering the bike is a 99.3cc, single cylinder, air-cooled engine, mated to a 4 speed transmission which is capable of churning out 8.1bhp power and 8.05Nm torque. It boasts of a top speed of 90kmph and mind blowing mileage figure of 89.5 kmpl. The bike is available within a range of INR 35,034 (spoke wheel) and 38,034 (alloy wheel).
TVS Sport – A Sportier Bike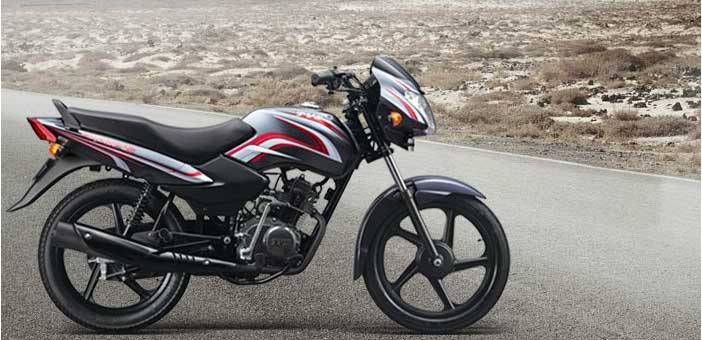 Targeted for the mileage-conscious commuter buyers, TVS Sport is an entry-level, stylish 100 cc commuter bike, equipped with features like, enticing looks, refined engine, excellent mileage, outstanding performance and above all, low cost. Borrowing the styling features from its sibling, the Star City such as stylish graphics all over the body of the bike, TVS Sport has got a sporty yet elegant look. Given its technical specifications, TVS Sport is powered by a 99.7cc, four stroke, single cylinder engine which can churn out a power of 5.5 kw and a torque of 7.5 Nm. The classic TVS Sport comes with an affordable a price range of INR 39,520 to 42,470.
Hero HF Dawn – An Affordable and Fuel Efficient Bike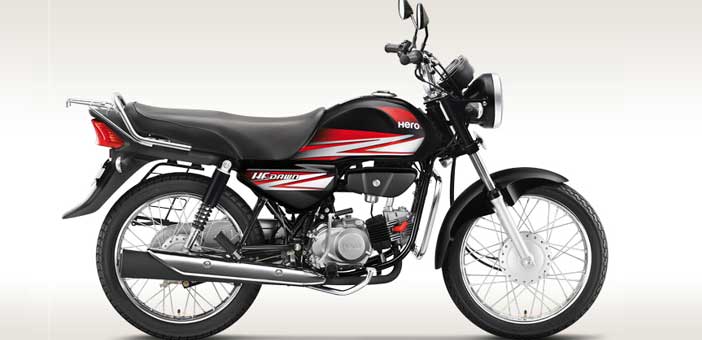 HF Dawn is Hero MotoCorp's entry level bike from its stable, present in the market for a long time. It best suits to the tagline 'Public Ka Apna Transport', being a most affordable bike for common man in the country. HF Dawn was launched in 2002 with a name – Hero Honda Dawn, later as CD Dawn and now known as HF Dawn. One of India's most sold bikes, Hero HF Dawn comes with a lot of excellent features. Powered by 97.2cc, air-cooled, four-stroke, single cylinder engine with four-speed gearbox, HF Dawn is known for great engine performance and comfortable ride. It can reach 0 to 60 KMPH in merely 7.8 seconds from a standstill with a top speed of around 90kmph. Despite of a limited budget, Hero has managed to offer an impressive design to the bike which is available in five colors including black & purple, candy blazing red, black with red, classy maroon metallic and boon silver metallic. The superb Hero HF Dawn comes with an affordable a price tag of INR 39,746.
Mahindra Pantero – A Panther inspired Commuter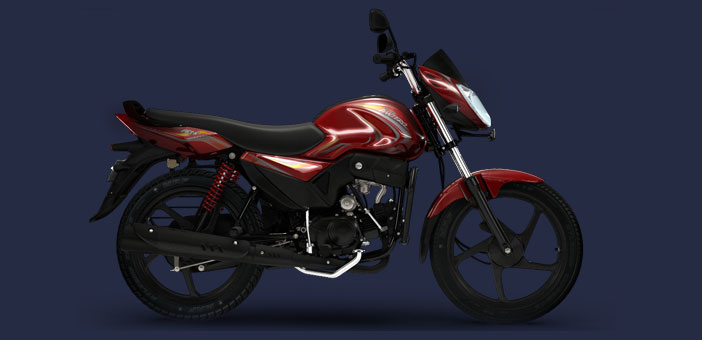 Specifically designed for jungle drive, Pantero is a spectacular bike manufactured by Mahindra to meet the exacting demands of commuter segment in terms of functionality, performance and above all, reliability. The Pantero is Mahindra's entry-level bike and second attempt in the 100cc segment after Stallio, however, Pantero is a vast improvement over the ill-fated Stallio. Equipped with a bunch of features and indigenously built engine, the Pantero is a well rounded product catering to the Indian commuter segment rather well. Panther-inspired Pantero is powered by 100cc, air-cooled, single cylinder MCi-5 engine, which can produce 8.5bhp of power and torque of 8.5Nm. Having an indigenously developed and intelligent MCi-5 engine, the Mahindra Pantero is the most maneuverable bike in the segment, capable of handling traffic and bad roads with ease. Mahindra Pantero is available in India within a price range of INR 39608 – 43108.
Bajaj Platina – A Perfect Daily Commuter

Launched by Bajaj way back in 2006, the entry level bike Platina is the most affordable bike in Bajaj's line-up targeted at buyers who are looking for a hassle-free commuter motorcycle. Since its launch, it has got much popularity among the riders both in India as well as outside because of its presentation and reduced cost. Bajaj Platina 100cc is a stylish low cost product that leaves up to the tradition of Bajaj Auto of being highly efficient to the last drop of fuel. Powered by a four-stroke, 99.27cc, single cylinder engine, the Bajaj Platina puts out the highest of 8.2bhp power and torque of 0.82kgm. Equipped with eye catchy and attractive design, chrome graphics and some other features like alloy wheels, which were not seen before on a commuter bike, Bajaj Platina is the best buy in the 100cc segment due to its stupendous mileage and outstanding performance. Bajaj Platina is available within an affordable price range of INR 37,044 to 39,030.
Comparison of Indian Cheapest Bikes
| | | | | | |
| --- | --- | --- | --- | --- | --- |
| Models | Bajaj CT100 Winner | TVS Sport | Hero HF Dawn | Mahindra Pantero | Bajaj Platina |
| Price(Ex-Mumbai) | 37,148 | 38,980 | 39,531 | 40,508 | 39,751 |
| Engine | 99 | 110 | 97 | 107 | 99 |
| Power | 8.2 | 9.2 | 7.8 | 8.0 | 8.2 |
| Torque | 8.1 | 8.1 | 8.0 | 8.0 | 8.1 |
| Top Speed(kmph) | 90 | 90 | 90 | 90 | 91 |
| Mileage(city) | 70 | 60 | 65 | 60 | 65 |
| Mileage(highway) | 80 | 85 | 75 | 70 | 75 |